Info Shymkent made interview with Kelsie Kimberlin. The young musician and singer went popular with Lobotomy – a well made provocative song and music clip.
The 21 years old Ukrainian-American musician and singer Kelsie Kimberlin started early her music career to use music as a messenger. Her newest music clip "Lobotomy" want to send the message of peace, friendship and love – and that people should open their minds. We had the opportunity to write with her and asking some questions about her life, about the music video and her future plans.
Info Shymkent: Hello, Kelsie, How are you? Where are you at the moment?
Kelsie: Hello, and thank you for asking. I am doing well under the circumstances. I have been staying safely at home during the quarantine but I am still able to work on my music and create songs in my home studio. I live in the Washington, DC area.
Info Shymkent: How are your "Quarantine" days going? Is Covid-19 interrupting your work?
Kelsie: Of course, COVID-19 has interrupted some of our work. I had planned on traveling this summer to Kyiv to film some additional videos and work with my producer Sergey Krutsenko in the music studio but that has been postponed until things are safe. One of the songs we are going to do involves a full orchestra and choir but those are not allowed yet, and travel from America is not possible at this time.
Info Shymkent: Kelsie, how did you become a musician? Can you tell more about yourself?
Kelsie: I have always loved music and sang in several children's choirs. When I was eight years old, I participated in Yoko Ono's Peace Project by creating a music video against the war and I won first place in the Creative Nation contest. So, I used all the money from that to take music lessons. I released my first music video when I was thirteen and many more after that which garnered a great deal of attention. I am 21 now and have spent thousands of hours in the music studio and filmed four cinematic music videos with Sergey that I will be releasing every few months this year.
Info Shymkent: Can you tell us about the song "Lobotomy"? Why did you call it "Lobotomy"?
Kelsie: My newly released song, "Lobotomy," is about how people mindlessly follow leaders and media even when it hurts them. We have seen this happen throughout history and it is repeating itself once again across the world with people rejecting science, not taking climate change seriously, and engaging in senseless wars. The name Lobotomy is provocative because it evokes the image of a person who willingly allows someone to remove a part of their brain and becomes compliant.
Info Shymkent: How did you meet Sergey Krutsenko? How was the split up of the tasks in this project? E.g.:. Who made the Lyrics, Melody, Filming, Scripting, … ?
Kelsie: My mother is from Ukraine and my father is from America. As such, we have many friends and family in Ukraine. A few years ago, my dad's friend was playing some of my music for Sergey and he was impressed with the depth of it and invited me to Kyiv to film some music videos. Since then, I have spent weeks on film sets there. We are combining music with cinema in order to connect with people on many levels. I write the songs and create demos with my father in America, and then Sergey produces them, scores the orchestration and we do the filming in Ukraine. We collaborate on the vision and I also help design the costumes.
Info Shymkent: What did you want to say to people by your music clip? We recognized girls in black dresses and also the music clip had very interesting but also disturbing scenes.
Kelsie: There is a lot of frivolous and disposable music in the world so I am trying to do something different by creating music that is deep, meaningful, emotional and timeless. We are entering into a new phase of human existence that can go either toward darkness or toward enlightenment. So, I want people to think and connect with each other so they understand that we are all in this together and we can live and love by caring about one another. Music and film are great messengers. There are many metaphors in Lobotomy from Biblical times to the present that I hope people will get.
Info Shymkent: Sergey composed very much film scores of movies. Is "Lobotomy" his first music clip?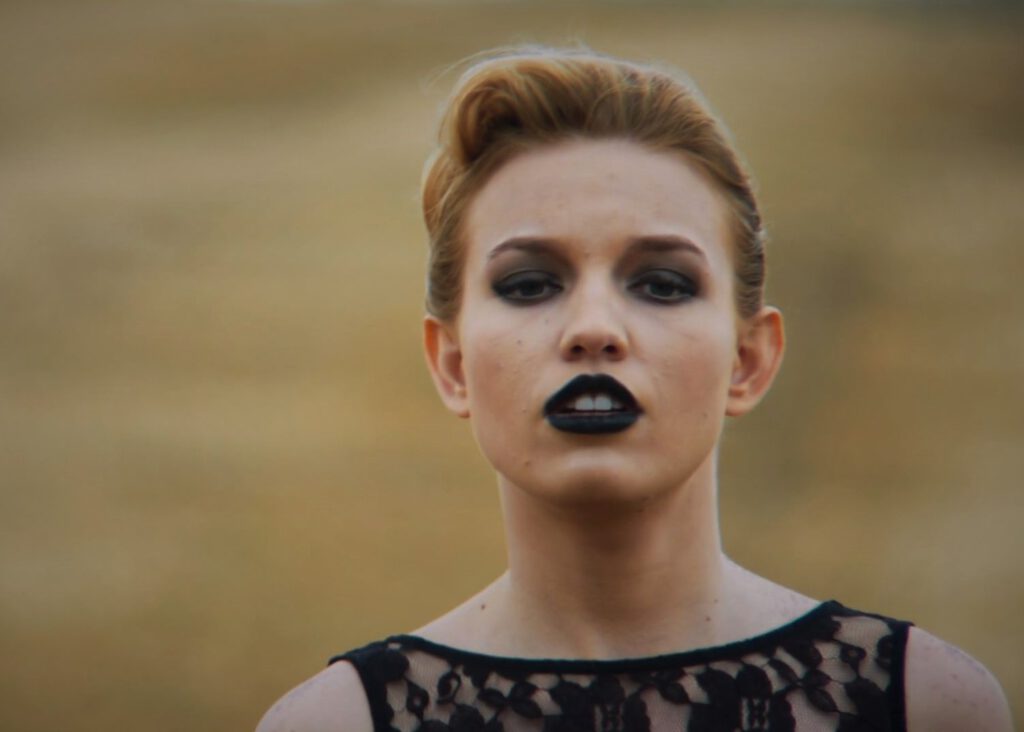 Kelsie: Sergey is a very well-known composer and film director in Ukraine and I am very fortunate to be working with him because of his vast experience and his deep understanding of music, history and karma. 
Info Shymkent: What was the reaction or feedback of your audience who watched and listened to your music clip?
Kelsie: The feedback to Lobotomy has been enthusiastic and very positive. More and more people are hearing it on the radio and on social media, and this keeps building.
Info Shymkent: Have you already made a concert tour? For example, would you like to make a tour through Kazakhstan?
Kelsie: I love to travel so a tour is something I am looking forward to very much.  I have always been intrigued by Kazakhstan and would love to visit and play there in the future.  It may be a while before it is safe to tour so I will continue to get ready by working on my music. 
Info Shymkent: What are your plans for the future?
Kelsie: In the near future, I want to release my debut album and at least five music videos, and after that, have a long career in music and entertainment that will help change the world for the better. 
Info Shymkent: Thank you very much for this nice interview, Kelsie. We hope many people will receive the message of your music songs and understand. We wish you good luck for your debut album and continuing success for your music career. Stay healthy! And it would be great to welcome you in Kazakhstan – the heart of Central Asia.
Follow and Listen Kelsie Kimberlin in the Social Media Channels: