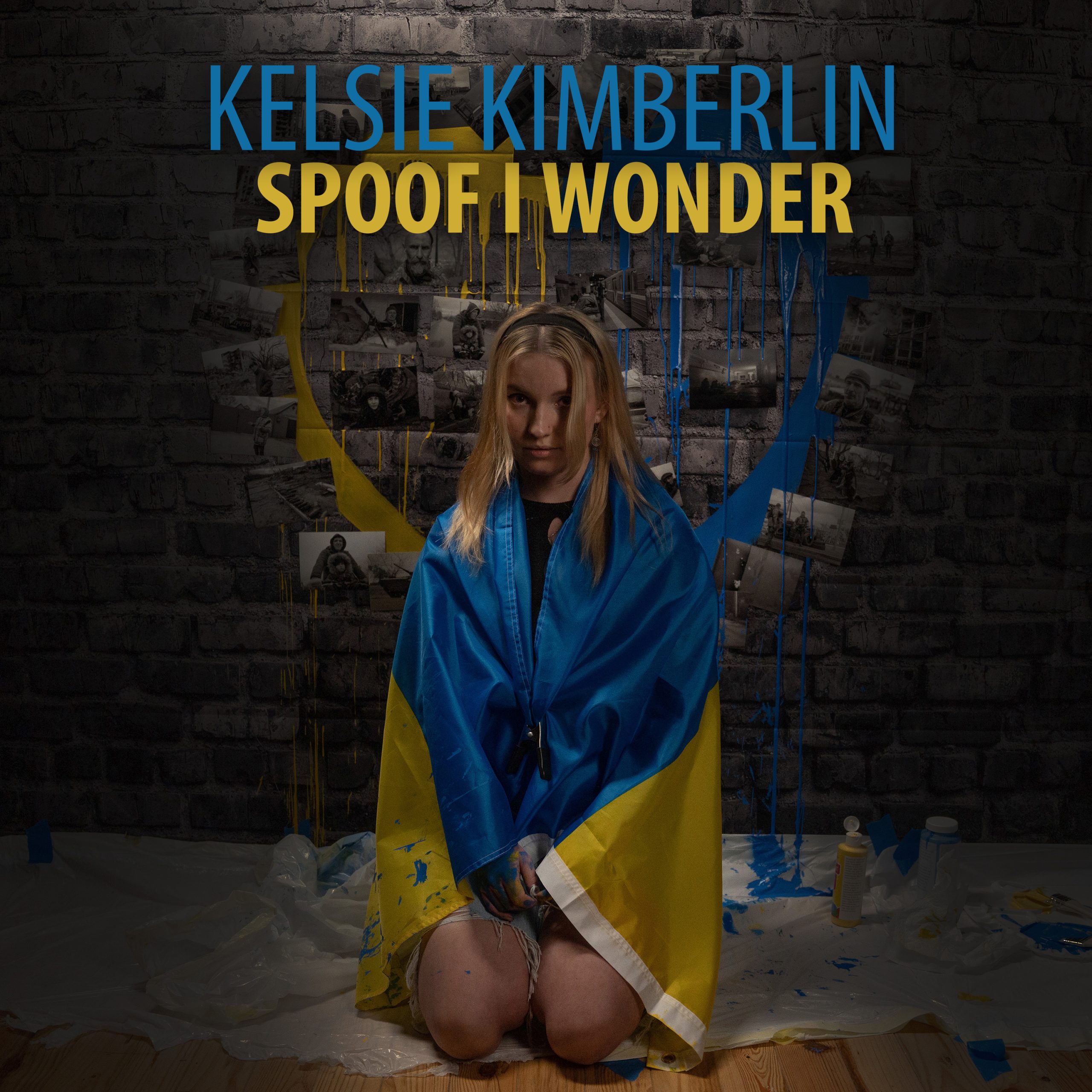 ---
Kelsie Kimberlin, a proud Ukrainian-American solo-artist, is once again doing her part to stand against the unjust war in Ukraine with the release of her new song and video, "Spoof I Wonder." The one-year anniversary of Russia's full scale war was on February 24th, and Kelsie is using her music to keep the world's focus on the toll of human suffering caused by the war. She does this on a granular level by collaborating with Ukrainian award winning photo journalist Andriy Dubchak who has documented the horrors of war through the lens of his camera. In the video, Kelsie, wrapped in a Ukrainian flag, paints a large heart in yellow and blue on a brick wall and then pastes dozens of Dubchak's photos around and inside the heart while poignantly singing the song. The result, in a music video directed by Zack Gross, is a stunning and heart wrenching portrayal of the cruelty and senselessness of the war.
"I spent many peaceful childhood summers in Ukraine in villages surrounded by sunflowers and on beautiful beaches of the Azov and Black Seas", said Kelsie. "The war has affected me deeply so I will be releasing a number of songs this year about Ukraine, the war, and my feelings. 'Spoof I Wonder' depicts the horrors of war through photos of a courageous front line photographer. My performance, both vocally and visually, attempts to express the profound pain and suffering the war has brought not just to Ukrainians but to all civilized people. I hope and believe that it will affect all who watch the video."
The song is written around a classical motif as a cantata with hints from Beethoven's Moonlight Sonata. This puts the listener in a contemplative and sorrowful mood which is made even more agonizing by the lyrics that build through the chorus:
Why is there all this sadness
Why is there all this treachery
Why is there all this hatred
Why is there all this cruelty
Why is there all this fighting
Why is there all this trickery
Why is there all this lying
Why is there all this butchery
And she ends with the searing question that haunts the entire world, "who thought of this idea, I wonder." Yet everyone knows the answer.
Kelsie's powerful and soulful vocals make the listener's heart tremble and the hair stand on end. Her vocal rendition along with her video performance add real depth to her growing legacy of songs that have meaning, power and beauty in a musical sense. Kelsie has become a global force to be reckoned with, where she has received universal accolades, worldwide radio play, and a buzz that keeps getting louder with every new release. Join Kelsie for the official release of her new single and video on March 6, 2023. It will ensure that everyone heeds Kelsie words: "Please share this video and support Ukraine in every way you can along with the hashtag, #StandWithUkraine."